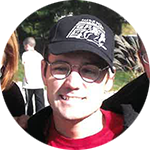 Nic was always very active physically and in gifted classes at school. He participated in numerous sports as a child, including baseball, soccer, football, swimming, and wrestling. Nic played four years of varsity football and wrestling – winning wrestling sectionals for his weight class his junior year of high school. Nic was a quiet guy, but when he spoke, it was something, "we would all want to hear," as his teachers and coaches would.
Nic was just 17 when he graduated high school and insisted on going to college out of state. He was wanting to go to a D1 school to play football and felt he had a chance at the University of Nevada at Las Vegas (UNLV). Unfortunately, he had a shoulder injury during the summer of 1999 which ended his football dreams. Though he did sit down with his parents to share the pros and cons of his decision, his mind was already made up as he had enrolled in classes and was still going to Vegas. His parents sent him out there on a Greyhound wanting to show him how far away he would be from his family. To this day he still complains about that grueling bus ride.
Nic very independently stepped out of his comfort zone and made his five years at UNLV a success. He graduated in 2004 with his BS degree after picking up residency in state of Nevada to lower college tuition. He worked at UPS, at a Bank of America, as pool manager at the Imperial Palace Casino, and he even did an internship with the indoor football team, the Gladiators. The best compliment his parents received came from people that visited him who said, "he's such a gentleman."
He wanted to go for his MBA right after graduation and was accepted at Loyola in Chicago. Nic managed to find an apartment on the "Gold Coast" close to the Loyola School of Business. He then found a job working for the Chicago Board of Trade as a runner and worked at the Ritz Carlton as a barback. In 2006, Nic graduated Magna cum Laude with his MBA.
Nic returned to Indianapolis looking for employment. His dream was to work for the NFL, so he applied to many different NFL teams. The Indianapolis Motor Speedway (IMS) was also on his list if he was going to be staying in Indianapolis. Nic was hired into the IMS marketing department running the internship program. The job was very "Hollywood" – traveling to different venues to promote the races. He worked with the Indy 500 Princesses, the Redbull girls, and all the races on the Speedway schedule. Even the MotoGP was assigned to him.
Nic was given a Ducati and 2000 Honda in his last two years at the Speedway. He kept these bikes June through September for his personal use. He modeled A Star apparel, and was able to keep the clothing, helmets, boots, gloves and jackets, all safety equipment that comes with riding a motorcycle. Nic set up venues all over Indy promoting the MotoGP. This included bike meetups doing rides to different bike shops and even an Indy ride with Mayor Daniels. Attending street bike venues with trick riders and passing out swag and race tickets added to the excitement and long work hours, but he was living a dream come true.
At the end of the 2009 IMS racing season, Nic decided to meetup with his interns knowing he would most likely not be seeing them again. At the time, he lived in downtown Indy with his girlfriend who was 5 months pregnant. Since he was not too far from all the action, Nic rode his bicycle to meet up with the interns at one of their apartments downtown. The group first went to the Irish Festival at Military Park, then to Nicky Blaine's Cigar Lounge, and finally back to the apartment to play cards.
At 2:30am Nic headed back on his bicycle. Video from the Federal Building shows Nic riding on the sidewalk until the sidewalk was broken up by construction. It shows Nic going around the orange cones and then he disappeared from the screen.
His disappearance was caused by a hit and run. Video pixels could not pick up the license plate because the streetlights were so bright. Car parts were found that would make the car to be a 2004-2008 Chevy Malibu. Nic himself was found face down. The EMTs who arrived on the scene tried to intubate him, but he was breathing on his own. A firefighter shared that he had never seen that much brain matter on the pavement before.
Nic was initially a "John Doe" because they left his backpack with his wallet at the scene. His parents got the dreaded phone call at 4am stating they needed to rush to Methodist Hospital. They said it was a surreal experience – just like in the movies when they take you into a room to talk. The neuro team came in stating the need to make a quick decision for surgery. But then the surgeon warned, "Be careful of what you choose, make sure it would be the decision Nic would want."
The surgeon gave all the statistics and the possibility of not making it through surgery, and if successful, he could be in a vegetation state the rest of his life. Not the type of decision any parent would ever want to make.
Nic was at a Glasgow Coma Scale score of 3. He sustained an open skull fracture of the right parietal, temporal, and occipital bones with extrusion of brain matter in the occipital region. Nic received a craniotomy because he presented with subdural and subarachnoid hemorrhages. He also had bilateral rib fractures and left pulmonary contusion. He was placed on a ventilator, a lung tube, and a gastric feeding tube, with a neck brace because of neck fractures. Nic was in an induced coma for ten days. He stayed in a coma on his own until October. In the middle of October, he went to the Rehabilitation Hospital of Indiana (RHI) nonverbal, dependent on all daily living activities, and only moving spontaneously on the right side of his body. In January 2010, Nic was discharged from RHI with intact language and increased independence in daily living activities. However, his cognition, naming, motor skills, and vision remained severely impaired.
As a result of the accident, Nic developed cortical blindness, left hemianopsia, and left hemispatial neglect. He received visual training services from September 2010 until March 2011 through Bosma Enterprises. They assisted Nic with personal management, communications, keyboarding, orientation, and mobility services.
Nic's whole family felt completely helpless knowing there was nothing they could do to "fix" this situation. Their new motto became "it is what it is," and all focus turned to finding the "new normal" – a new way of life for everyone.
He became his parents' priority over everything else. They took FMLA at different times throughout his hospital stay, with the doctors telling them to go back to work in late November. His mother decided to resign from her job of 21 years, as there were too many doctor visits and Nic wouldn't be able to be left home alone. He returned home in December and his son was born that January. He did go through the motion of cutting the umbilical cord, though at that time he still had no idea how old he was or what year it was.
Nic was in brain fog for at least a couple of years. During that time, it was as if he "grew up" again, going from the infant stage of total dependency back to an adult. It was at times simultaneously funny, awkward, and sad for everyone involved.
Currently, Nic is on a TBI waiver and lives independently in an apartment 17 minutes away from his parents. With the waiver Nic has many services paid for such as a case manager, 20 hours per week of caregiver services, a Med Machine to notify him to take his meds twice a day, a life alert system, 14 frozen meals every two weeks, and a behavior specialist that visits Nic once a week. This TBI waiver, which is a type of Medicaid waiver, is available to only 200 people in the state of Indiana. In addition, Nic receives SSDI monthly income, because he is legally blind, and his level of cognition is still decreased.
His family looks back at his life before, and they are happy Nic went to Vegas and Chicago, received his MBA, and had a son. Nic was able to live part of his dream working, doing some traveling, and living a full life for 28 years.
What he has now is a very lonely life. He's lived in his own apartment for seven years and doesn't know anyone but the maintenance man. None of his friends from high school, college, or co-workers call or visit him. They were all at the hospital when they thought he was dying. He lived and no visits or calls. His parents provide his whole social life, shopping, cleaning, church, and anything else he needs.
The hope they have for Villa Licci is that it will be a place for Nic to find commonality in life. A place to make friends and not be alone. A place to feel safe when going outdoors. A place to be social and fun. This community will allow them to not feel guilty because they know Nic is not alone until they go over to pick him up or visit.
It was Nic's decision seven years ago to move out of their home and they truly believe he wasn't aware the brain injury would still be with him. He thought he would find a girlfriend, get a job, and have friends over. Unfortunately, that is not the reality. They hope Villa Licci will be able to fill some of this void Nic still finds in his life – to bring him out of this lonely isolation and provide him with a loving community.
---