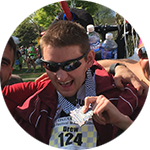 Drew was a high-achieving college student majoring in Biomedical Engineering at Rose-Hulman Institute of Technology. He was planning to apply to medical school with dreams of pediatric orthopedic surgery as an occupation. He was enjoying a successful athletic career as a starting safety on the football team and very involved with his fraternity. He had good friends and smiled often.
One February, while coming home for a quarter break, he was involved in a single-vehicle crash after hitting a patch of black ice and spinning into a tree. Drew would remain unconscious and semi-conscious for five months. Within two weeks physical therapy and occupational therapy began to work his body and it continues still today.
The initial diagnosis was that Drew would not recover at all. So, his family is immensely grateful he is still with them today. He is unable to speak, however, he understands everything. Understanding is a dual edge sword both good and hard. He knows what he has gained: a life full of people who love him and care for him. But also knows what he has lost: his old life.
Drew is dependent upon family or others for care. He used to be very social, and, in the beginning, his friends visited. Unfortunately, as time went on most had a hard time as they worked through their own grief. Now, the majority of his social time is only with therapists.
He does not walk because the injury has left him without balance. He does have a three-wheel recumbent bike that he can ride with minimal assistance. Due to a recent serious illness that lasted for nine months, Drew has lost the ability to eat by mouth and has a feeding tube, which his family notes has become a major challenge. He loves to eat, and food had been a simple pleasure for the family ever since he passed the swallow test three years into his rehabilitation.
Some of his pre-accident personality remains beneath all that he has become. Drew has always been goal driven. In sixth grade he told his mom his goal was to be Valedictorian of his graduating class. Most twelve-year-olds are not planning this but he always had a plan, and he was successful in many endeavors. This determination and motivation are major factors in his life to this day. He wants to walk and works very hard in therapy. For nearly 14 years he has had a focus on walking again. His family's motto has always been, "Excellence honors God and inspires others." Drew continues to focus on living out this motto. The final goals may have changed but choosing to do so with excellence continues. When dreams are dashed, new ones are made.
Drew currently enjoys being pushed in half marathons by his brother-in-law, Jon, and his speech therapist, Dave. However, he desperately wants to be independent. He also lives with pain each day – emotional as well as physical. Since his accident, he has missed being the Uncle Drew who plays with his nieces and nephews. He couldn't wait to be an uncle and spoil the kids and play ball with them. He has also missed out on friendships and social events. He has missed having a girlfriend and wanted to be married with children of his own.
Villa Licci would help provide Drew with some of the independence he craves. Currently, there is nothing like it in Indiana and it is so needed. It will be a home and an extended family for adults, not a sterile facility. It will provide opportunities to be independent in a safe environment. It will help foster relationships. Social connections and friends are vitally important, and Drew's family looks forward to him being able to cultivate those once again at Villa Licci.
---